Lilac Hill sits on 80 acres of wooded hills and open farmland creating an idyllic setting for your outdoor wedding.
Lilac Hill is ideally suited to host your next wedding, corporate event, birthday party or family reunion. The new 4 season barn, completed in May of 2020, can comfortably accommodate up to 300 people with ample room for dance floor and buffet tables.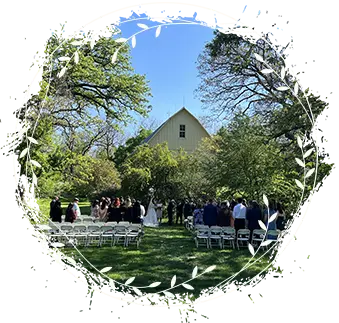 Old Barn
Framed by majestic Oaks, the old barn serves as the ideal backdrop for your outdoor wedding.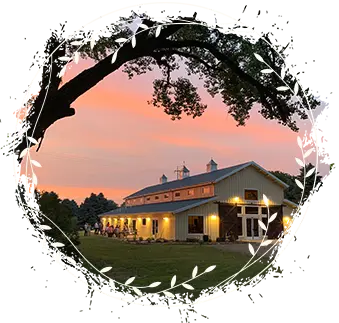 New Barn
The 6,480 square foot barn honors the tradition and design of the old barn while providing a large, modern day facility to host your next event.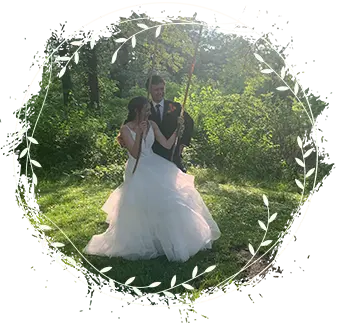 Gardens & Photo Spots
Covering over 35 acres, the gardens feature a variety of "rooms" where you can roam, explore, take stunning pictures or hold your outdoor ceremony.
Reception Hall Omaha
Lilac Hill's Reception Hall Omaha stands as a premier destination for unforgettable events. This enchanting venue blends elegance with modern amenities, creating an idyllic setting for celebrations of all sizes.Lilac Hill's Reception Hall Omaha is synonymous with versatility and sophistication. Whether planning a grand wedding, a corporate gathering, or a private celebration, the hall's spacious interior and customizable layout ensure a perfect fit for every occasion. Expert event coordinators are on hand to tailor every detail, ensuring your event is as unique as your vision.
Beyond the hall itself, the surrounding landscapes of the Reception Hall Omaha at Lilac Hill offers picturesque backdrops for outdoor ceremonies and photographs. The verdant gardens and gently undulating hills offer a tranquil haven where visitors can relish life's memorable moments and lose themselves in the splendour of nature.Selecting Lilac Hill's Reception Hall Omaha for your occasion entails more than just selecting a location; it's also about experiencing unparalleled hospitality and meticulous attention to detail. Lilac Hill is not just a location; it's the beginning of lifelong memories.
Wedding Price List
Lilac Hills strives to include as much as possible in our rental fees to help eliminate the stress of all the details you need to handle on your wedding day.
Small Wedding
(Sunday – Thursday Only)
$3,000

Ceremony & Reception Wedding
(Saturday - Sunday)
$4,000 - $6,500

Stress-Free Weekend
(Friday – Saturday)
$8,500

Let's Party All Weekend
Friday – Sunday
$9,500
"Beautiful venue with very spacious accomodations and it doesn't require many decorations as the venue itself has natural beauty in and of itself. I liked the options for outdoor space as well."
– Tom Vferd
"Wonderful staff, beautiful location, and an unforgettable experience. So glad my older brother had his wedding here."
– Jeremiah House
"My husband and I LOVE Lilac Hill! Chris was a pleasure to work with. As soon as we toured the space we knew it was for us. We took our engagement photos here at no extra cost. The wedding day went smoothly thanks to the organization of Lilac Hill!"
– Abigail Flores
"Absolutely gorgeous space! I was in a wedding here recently and it was 94° outside. It was very comfortable and accessible. The attention to detail is excellent. I highly recommend this as a wedding space."
– Brenda Stanek
"Beautiful venue for parties, weddings or family reunions. Would've loved to see more of the outside area but due to the cold weather the wedding we attended was moved indoors. I would certainly recommend this to anyone looking for a venue of this type."
– Matt W.
"If you are looking for a wedding venue this is definitely the place!! Our daughter's wedding took place here and we couldn't of been more pleased, our guest gave nothing but compliments on the venue. Chris and Winter were awsome to work with, very responsive with any q…"
– Denise Tarnick
"Quality event setting, spacious outdoor backgrounds for photos. We used the indoor space, it seems there was an outdoor spot to have a ceremony as well. There was plenty of room in the facility for our group to dine and dance. Patrons who used the bar seemed pretty happy with it…
– Ted Ehrhart
"It's been a great pleasure to work with Chris out at Lilac Hill. He has had a wonderful vision with his parents property and pulled it off beautifully. It works so well for all size weddings. So much variety and beauty. "
– Tiny Luxe Weddings
"A beautiful venue and grounds. Even when the temperature was approaching 95 the outdoor space wasn't awfully hot. The new barn was nicd and cool. Great mature cottonwood trees. Some poison ivy lurking in the gardens so be careful."
– Scott E.
"Pretty neat place! Outdoor wedding and indoor party! Very clean and the presentation was perfect!"
– Al Arett
About The Lilac Hill
The property features a Sears catalog home, barn, and two sheds built in 1937 by the Dietrich family who had been in Louisville for many years.
Lilac Hill is the dream and vision of my father, Don Maxon, who had a passion and love for gardening and landscaping. As a young man he fell in love with arboretums and botanical gardens, so when this run-down, over-grown 80-acre farm plot came on the market he quickly bought it up with the dream of establishing his own private arboretum. He saw through all the rusted-out farm equipment laying around, the unkempt trees and undergrowth that shrouded every view, and realized there was beauty to be had with some effort.